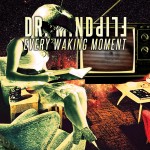 Quirky indie pop. Netlabel blocSonic keeps to its mission to deliver solid indie music, this time in form of swingy pop tunes. Acoustic instrumentation (drum, piano, bass, acoustic guitar) + vocals create a solid soundstage and 4 slightly eclectic songs.
Tookawalk is my personal pick for this album for its swing rhythm.
Rootless is the EP's "hit single" and thus got its own music video, featuring wooden manikins and stop motion.
Download
Release page (blocSonic)
Release mirror (archive.org)