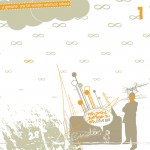 Instrumental electronic downbeat jams. Oh, my, jeeez! So relaxed, so flowing, yet so rhythmic. It's hard to describe the dry, yet warm sound of Endlos from Leipzig. The more I can recommend you to lend them you ear for a minute…
Renne durch dein Leben jams on for almost 6 minutes with hypnotising monotony, filled with little details between the sampled loops. Highly recommended!
Ist das alles has a much slower start, bleeping back and forth between left and right. Yet during the following 8 minutes, a post rock like build up awaits you, full of noisy guitars. Intense!