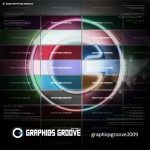 Ok, naming their stuff creatively isn't one of Graphiqsgroove's strengths, but after all, their music is what counts. And there, the Japanese nujazz artist doesn't disappoint. Laid-back instrumental soft beat lounge funk that doesn't distract is what you can expect from these 9 tracks.
Bleuacide sounds loopy, but that's by design. New elements are added slowly. Wait for it!
Seagreen is pretty similar. I like how well everything fits together.