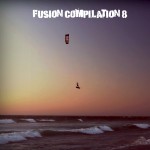 Experimental Trip hop compilation. From the Fusion netlabel comes this showcase of a sampler. A range of electronic styles are united on this buffet. Expect to get surprised by the slightly experimental tracks. The production is excellent throughout all featured artists. Two tracks that span the spectrum of this release are in the preview below:
ClosYourIce by Tronx loops through chiptunes, clicks & noise, weaving them together to a mellow instrumental ballad.
Storm of the – I – of the Storm has the same ingredients, but is an upbeat click contest in your ears.