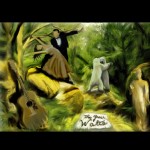 Tender vocals, acoustic guitar. Dada is a talented musician from Paris, gifted with a great voice and sense for the right chords. Equipped with piano, acoustic guitar and occasional percussion, he sings his way through 15 tracks.
It seems that he calls himself now Dada & the Weathermen, has released three more acoustic albums on Jamendo and one electro pop on Bandcamp. Back to this dreamy masterpiece, read on for my two favourite reasons for you to download this album as well.
Little Man best captures the melancholic atmosphere of the album.
WorldWide Sight is a calm but sunny ballad.