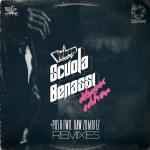 Crispy, kicking breakbeats is what awaits you in this single on Sostanze Records from Italy. Scuola Benassi in four versions, two of which are remixes by other artists. The song itself is a forward-thrusting floor-filling breakbeat bomb (alliteration allergy, anyone?). My two favourite versions and the obligatory download link follow below.
Scuola Benassi (Push Fwd Remix) has clicky sound ornamentation and an even more aggressive opening. Like that.
Scuola Benassi (Breakbeat Version) is more focused on the main theme.