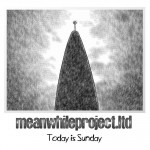 Folky instrumental guitar rock with a dash of Pink Floyd. Today is Sunday is the first solo release of the Cologne-based artist M. Adam with his Meanwhileproject.ltd. Electronic bits add flavour to background-music chord textures. Great during, but also after work!
All in one has a sweet chorus, reminding me of the pop band Zero 7.
Sleeper cannot decide between post rock and downtempo electronica.