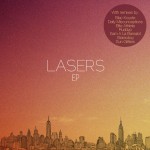 Slightly positive IDM with a dash of Trip Hop. Bad Panda Records released LASERS EP back in 2012. With four original songs and seven remixes, the release is almost 50 minutes long. Its sound is very relaxed and doesn't try to impress with catchy tunes. Instead, spherical sounds are combined with straight drum patterns. (What am I writing here? Better go on and listen yourself…)
Paris glows with a relaxed summer vibe over slow percussion.
Amsterdam features hushing string pad sounds. A bit darker and more serious than Paris.