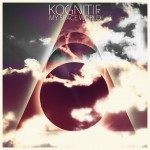 This is my first review of a release by Dusted Way Kingdom that focuses on instrumental hip hop. Most releases, while enjoyable, sound too loopy in my ears. But not so with this gem by Kognitif from the French Midwest. This release is reminiscent to good old trip hop, think Massive Attack. Vinyl loops are artistically composed to timeless pieces. Listen and judge for yourself!
Babe I'm Gonna Leave You is a melancholic masterpiece of a song, carried by a acoustic guitar sample that loops through the entire song.
Rocket Trip has killer vocals and decent, psychadelic instrumentals.