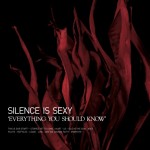 Rock-solid indie pop rock. Walls of guitars, neatly arranged by the Dutch band Silence Is Sexy. While the twelve tracks of this release are too similar for my taste, this alone is no reason to not like its outstanding tracks. For me, this album is perfect background music for not-so-quiet moments.
Us has a killer intro with violin pads starting at 0:18. From there, it only becomes better.
Pilots shines through its nice vocals and vibrant chord carpet.