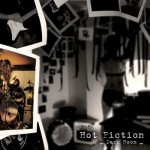 Smoky blues rock, straight from the garage. I smell some White Stripes from time to time. All parts are superbly played/sung. From the juicy bass lines up to the adorable lead voice. If you rock, rock on here!
When Nothing Mattered only consists of catchy riffs and a chorus to kill for.
Starts It Off sounds like an homage to the White Stripes. Stomped drums and heavily distorted guitar riffs FTW!