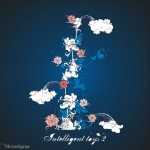 This is my fourth review about a release from the netlabel Sutemos (these were the previous reviews). Intelligent Toys is a series of compilations with cutting-edge to avant-garde electronic music. Back in 2005 when I first downloaded them, I found them too experimental. But this time, they make a furious comeback into my music collection. Find out why…but be warned: don't expect pop or dance music. This music needs attention to work.
When I Was Yours is bleepy, romantic goodness. Bubbling sounds float aloft tender clicky beats. Sweet.
Brouillard works best with big speakers or headphones, a dark room and a spoonful of sleep deprivation. Slowly pulsing drones create a sound field that can be felt as very intense—or boring. What's your take?
Generic Host Process is a clicky IDM gem. Dance music for the brain, so-to-say.