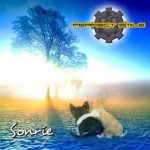 Perfect Smile play melodic metal that resembles the style of Sonata Arctica. Five tracks or 26 minutes of extremely well produced progressive rock await you. I cannot stress enough the production quality of this album.
Like always, I present two tracks that should you leave craving for the whole release.
Amargo Despartar was the first song that made me listen up with its memorable structure and chorus.
Petalos de Rosa is my favourite track of this album. Powerful from the first chord, aggressive lyrics pave the way to the catchy chorus starting at 2:20. Being over seven minutes long, there's plenty of time for instrumental soli and bridges.