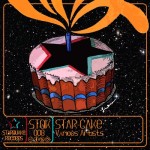 I follow the netlabel Starquake since its first furious début compilation Quaking Stars about one year ago. Since then, they constantly delivered high quality, hard and edgy electronic dance music .
In this review, I describe my favourite tracks from their anniversary release Star-Cake.
Stoned Discoball by NiHiL is juicy, yet minimal Techno. Slowly new elements are added to the hypnotizing main melody. You could say "monotonous" or "always the same", but that is necessary for the great break at 3:00. Music with a concept. At its best. And for dancing. How. I. Like. That… Dance!
Julie Star by Sebastian Love must be mentioned, just because it is a lush acoustic guitar song—quite eccentric for this netlabel.