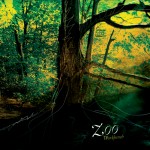 This ambient release from Kahvi contains over 80 minutes of relaxing background music. No spiritual, new age enlightenment tunes with water effects. But only clear and calm electronic music. I like this kind of music for programming, reading or just relaxing. Like usual, I present two tracks to pull you in, too!
If Paper Frog seems lame, that's only because you listen to its three minute long intro. Fast forward to minute four and you find the reason why I list this track here.
I like Epilogue I for its piano and laid-back percussion.