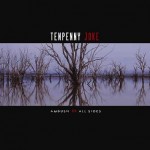 TenPenny Joke is/was a rock band from Melbourne, Australia. Ambush On All Sides is their first and so far last album. If features melodic and powerful rock music. Songwriting, vocals, all top-notch. Luckily, they have released their album on Jamendo for us all to find. Listen to my two favourite tracks and then download it yourself!
Evil Things is an acoustic guitar gem. The chorus line will haunt your brain! The style reminds me of the soundtrack from the movie About A Boy by Badly Drawn Boy.
The second song was not easy to select, but Never Enough best reflects the qualities of the complete album. Punchy drum, tight guitar riffs, great production skills.