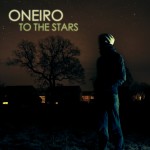 Do you know that kind of music that is repetitive, nearly boring but addictive nevertheless? Oneiro follows this recipe and made me an addict. I would classify this release loosely as indie electronica with shoegaze elements. Another way to describe them: the introvert brothers of MGMT. Anyway, their music is addictive background music for calm evenings.
Nowhere to Hide is a slowly floating ambient song with soft percussion. You either dig the harmonies or find the song boring.
Freedom is a musical meditation around the text line "All I want is to be free". One chord sequence is repeated over and over again, while instrumentation comes and goes.