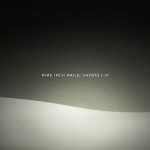 Nine Inch Nails is a industrial rock band with experimental touch. Experimental not only in the musical sense, but also in that they try out new forms of music distribution like giving it away for free. Ghosts I-IV is an improvised 36 track album with anonymous tracks, only grouped in "Ghosts I" to "Ghosts IV". Slow and silent songs are followed by loud and noisy jams. I picked my three favourite tracks that I feel represent the album pretty well.
26 Ghosts III is a dry, groovy jam that sounds probably harmonic when played under water. Frenetic, disturbing, tense, like the whole album.
31 Ghosts IV is a brutal, noisy, stomping, dirty piece of sound. Rough and edge guitar riffs, slow drums without mercy and a weird guitar solo after the first minute. What a trip!
1 Ghosts I sounds like it could be the soundtrack for a sad college movie à la Donnie Darko. Melancholic piano and defamiliarized choirs make the sound cold and alien.