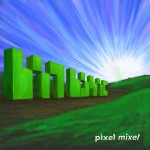 bitbasic releases "playful glitchy electronic music" freely. Very kind of him. Pixel Mixel is still his latest album, released 2010 at rec72, a netlabel based in Cologne, Germany. His music hovers between house, instrumental pop and IDM. This album has eleven tracks, some more silent, some are full of beats. Like usual, I present my two favourite tracks in the following.
An Opener is the ambient start to a more vivid album. The mood is perfect, just like a sunrise on the countryside.
Owls eye crust is on the glitchy side of bitbasic's style. Clicky beats, cheesy effects and a bit of distortion make this track quite catchy.