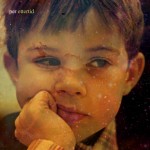 This release features timeless, synthy IDM. It was released in 2010 by the Fwonk netlabel. Also checkout Fwonk's anniversary compilation FWONK*50 for an overview of their extensive catalogue. But back to this review: 10 tracks with approximately 50 minutes length hover around a quite neutral mood, similar to Pluxus. Some tracks are slightly upbeat, but most titles won't make you jump to your feet. Read on for a description of my two favourite tracks and the download link.
The title track Ettertid for me is an instant classic of timeless electronic music. After a floating intro, soft beats and clap sounds play tennis under a simplistic bass line and minimal guitar melody. Sounds like a fresh, sunny morning after a cold night.
Ensom Nebula manages to create an uplifting experience without using a single major chord. Acoustic guitar, a one-tone bass line and drum percussion make this song rather dancy.