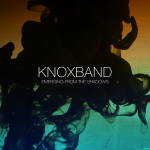 50 minutes of pure harmonies. Walls of synthetic chords, structured by spares percussion. Knoxband on diym netlabel is a wonderful example that soundscapes don't have to sound blurry. If I wanted to describe the album in three words, "musical space journey" would be my best bet. Find previews to my two favourite tracks below.
Emerging From The Shadows I is an eleven minute journey. A slow chord sequence loops on and on, while vocals, percussion and bass appear and disappear.
Emerging From The Shadows III in words is identical to track I. However, slight variations in arrangement and rhythm create a completely different atmosphere in this song.