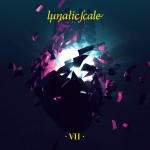 The Clinical Archives is one of the major netlabels out there. While most of their releases are too experimental for my taste, over 400 releases allowed me nevertheless to find some good ones. VII by Lunatic Scale is fresh, melodic alternative (or mainstream) Rock from Russia. Three sweet tracks, short and good.

The Game is the rough, edgy, aggressive opener. Think of Limp Bizkit (Take A Look Around…) but with more "air" in the guitars.

Last Chance is an uplifting and optimistic rock song. No surprises here. Just great music.