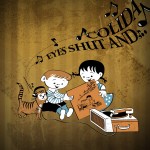 Colida is a hard alternative rock band. And pretty good at it. This release at the German netlabel analog und ehrlich was recorded in 2005 in Oldenburg and is Colida's third album. It only has four tracks, but those are worth the download. Fast, driving riffs, dry drums and a great voice — what else can one want? Read on for the download link and a preview of my two favourite tracks.
The opening track Carni-War begins with a simple, aggressive one-chord riff. Drums build a great, kicking-ass intro. Great!
Back To Start begins with a rather alternative guitar motive, before a conventional rock song unfolds.