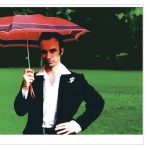 Cam Butler would easily win any "Be the next Ennio Morricone" contest, the composer of well known italo-western movie soundtracks like Once Upon a Time in the West. Cam Butler's music sounds just like one of those soundtracks, but much happier. Guitars and violins ride into the sunset, riding on a chivalry of classic march drum patterns that remind me of Ravel's Boléro. Listen to my two favourite tracks below and get the whole release of four tracks yourself.
Today, Troubles Seem Far Away sounds like waking up on a farm, just when the sun rises above a horizon of fields and meadows.
Brothers & Sisters, come to battle! Moody soft guitars that would even impress Mark Knopfler.