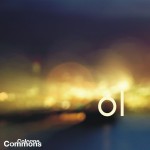 Cologne Commons is an annual conference and festival for digital culture that takes place in — surprise — Cologne in Germany. Unfortunately, I have never attended so far. YouTube enabled me to watch some conference talks online. Fortunately for me as music collector, a colourful music compilation is released for each conference.
This album is the first compilation, released in March 2008. As usually, I'll present my favourite three tracks directly in the article. The download link to the whole release follows all way down.
Wow, Plastic and Flashing Lights is one my rare 5 star gems. It sounds like a happy Daft Punk song that was censored from one of their earlier albums. But seriously, Professor Kliq has made himself one of my top 10 favourite electronic artists with just this very piece. Right now I am listening his other albums he offers on his homepage – for free, of course.
Bhang Lassi could also be on one of the many Café del Mar samplers. Relaxed, slightly exotic tunes, caressing your ears with soft chords. A ryhtmic beat discriminates it from pure ambient songs and makes this a nice easy listening tune.
Thriller is a not-too-deep House track, type floor filler. All ingredients are there: stomping four-to-the-floor beats, distorted synth-pads, simple bass line, repetitive like nothing. Like it.