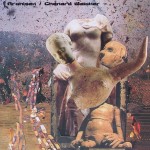 Obscure 70s funk samples, harvested from a supposedly vast record collection, are mixed together to create a strange, groovy sound. This album consists of ten tracks with a total playtime of 25 minutes.
Creator of this album is Chenard Walcker, a sampling artist who has released a lot of albums on the Internet Archive in his own netlabel called Free Sample Zone.
Can't Shake and Shake It are groovy disco fever tunes. Unfortunately, both songs are quite short (1:30).
Lipstick Dippers is a more calm example of the distinct sound. Numerous samples are seemlessly woven together.