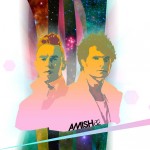 Phew, what a nice electro release! Amish82 remind me heavily of The Knife and Fischerspooner. While this release is very simplistic in construction, the resulting arrangements sound surprisingly rich and danceable. Some kind of "flaw" are the remix version tracks (6-15) while there are only five original tracks. But those five tracks deliver enough quality for many hours of joyful listening. But hear, judge (and download) yourself…
The first track Shovels And Cava outlines what this release is about: simple beats and catchy synth lines. The whole song surfs on the borderline between danceable track and relaxing tune. While the drums monotonously beat their way, an electric guitar riff is developed throughout the 6:42 minutes. It never becomes boring, which renders it my 2nd favourite track on this album.
My favourite track is Pewter. Its main achievement isn't complexity, but musical clarity. A minimal 4/4 house drum pattern and a sequence of five distorted electro chords are enough to evoke the desire to dance in me. After 2 minutes the motive restarts with a higher pitch and more punch, making it a classic dance tune. After 3:18 the experiment ends — much too early — and I click the repeat button; a very rare event for me.
The Silhouette Of The Amish is a dance track which sounds sweet like candy. Soft synth scapes are structured by the distinctive beat and a groovy bass line. Highly recommended if the two tracks before sounded to dry for your taste.
In brief: Listen and like it!