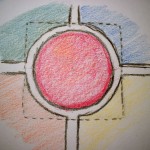 Just in case anyone is interested in it: How I got into making homepages? The following text summarises what I had realised before I created ojdo.de, my current homepage.
It started when I found a rough HTML-Tutorial in my brother's computer magazine c't. I fiddled around with a text editor, copied some lines (<html>...</html>), saved the file and opened it in the browser. The result was an ugly "Hello World!" page, but it impressed me to be able to write something that could be watched in my browser for which I had thought only professionals (or hackers) could create content for. So I continued to learn and soon had my first homepage online, called — don't beat me — Gamescity2000. There I copied some content together about games I played at that time like Stunts or Quake III. I don't dare to show it here and fortunately even the Internet Archive doesn't house the first versions any more.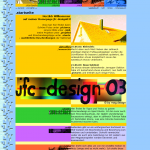 So time went on and I changed the name of my homepage to — no, not again! — jfc-design. I never was a professional web designer, but the name clearly made obvious that my homepages at that time never were about content. I just created as much as necessary to justify an online presence with which I could play around. And so I did. After 2 comparably poor tries I settled down at iteration 3 for a while. The design was very colourful and I still like it today. Version 4 consequently only was a slight evolution with minimal changes, most prominent less saturated colours.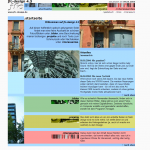 I rested pretty long a that design and actually got a little bit in the habit of adding content. A first "picture" section was born and I wrote about things I was interested in. Until that time, all content had to be added by hand (i.e. changing and uploading files by FTP). When I finally realised that this inconvenience hindered me to concentrate more on the actual content of my website — which should ever ever be the most important thing of it — I decided to redesign my page again and to implement some kind of simple CMS. Actually I wrote a pretty crude blog script.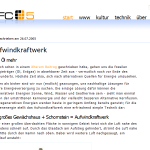 This resulted in jfc-design 5. Without wanting it to be a blog, it quickly became one. I irregularly added links to things I found and wanted to share with others. I had not implemented any visitor statistics, but also without I could guess that I didn't get a lot of visitors (today with a WordPress plugin I know for sure). However, at that time I didn't still care enough and focused more on a style switcher which allowed the visitor thanks to designs written with CSS to view the very same HTML page different layouts.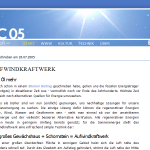 This technique is shown impressively in the css Zen Garden. Having done this, I quickly got bored to add further content and the site began to decay.
After some time I realised that there was no use in writing my own blogging script when there exist dozens of free, well-written scripts I just could use. In consequence I changed the name of my homepage again to get rid of the to prominent "design" in it. A short and google-proof name was Galsch.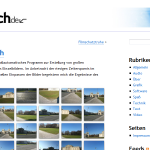 For it I used WordPress the first time and just customized an existing theme a little bit. This time I wanted to put content over design. However, with this approach I never felt "home" on my own homepage. So I neglected it quickly and just added links brushed up to resemble articles. I stopped adding content to the page in 2007 but let in online until today. From this I learned that I should not retry to launch a new homepage until I found something I would be willing to write about regularly.
Obviously, this has happened — or I hope so, at least. I will spend my time here posting photos and pictures, writing about the various incarnations pseudo-science from a sceptic's point of view or pointing out topics that got my interest. I also finally realised that I could canalise the passion for my music collection to write reviews about the music I like. Much of it is available for free on online Netlabels like Kahvi or bigger online plattforms like Jamendo. I hope I succeed in finally making a homepage that is both nice to watch and to read.