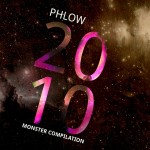 A Best Of album representing all free music released last year… that sounds ambitious. Phlow magazine tried it anyway. While I am hesitant that this monster of a compilation really includes all great tracks from last year, there are many tracks I would have missed otherwise. So as usual I selected some tracks which I think you should have heared. The complete release contains over 100 songs, so this selection by far cannot cover all genres.

Star Trek Theme by RAC—an acronym for Remix Artist Collective—takes the famous theme from the television series, adds danceable beats and carefully rearranges harmonies while using only elements that are already present in the original track. I find the result awesome.

Forever Blue is a soft Post Rock ballad by Fabrizio Paterlini with a great vocal part. Both lyrics and voice are staggering. Piano and strings accompany a flangering guitar and carefully used percussion.

Pop by Pisu finally is an electronic Pop music opus. Strong synth pads, hard beats und background vocal samples are well combined to create a timeless, sometimes cold, but always engaging soundscape.