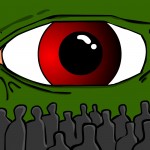 Merry Christmas! This release doesn't at all sound like snow flakes or a silent night, but is a furiously vibrant example of a fusion of extremes. Rock guitars, electronic chord clouds, funky bass lines, disco-like beats seamlessly blend together to a very distinct listening experience which casts feelings of euphoria and nostalgia. But just listen yourself to some tracks of this exceptional Bypass netlabel release.
The opener I thought i knew you (I didn't) is just great. Listen to it. It's the musical equivalent of a candy bar, an energy drink and a cold shower — simultaneously. I was just blasted away when I heart it the first time.
Track no. 2 is called Sound waves in outer space and a disco hymn with genes of the soundtrack to the old game series Mega Man. For 2 minutes the main phrase evolves slowly. Then at 2:12 the song transforms to a groovy bling-bling (due to the use of very high synth sounds) dance song which best could be described as cool Europop — if such a thing can exist.
It depends on is introduced by a short quiet piano solo which presents the motive. A sharp attack with all instruments directly follows an repeats the motive with a little more punch. The track then morphs to a mixture of energetic dance track while preserving the dramatic intensity made up by the chord sequence.
For the final words, let my cite the artists' words from the release notes:
We hope everyone of you will have a nice christmas with this lovely album, see you next year.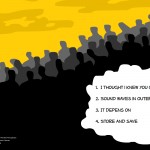 Tracks
| | | | | |
| --- | --- | --- | --- | --- |
| 01 | I Thought I Knew You (I Didn't) | 5:45 | ★★★★ | ♢♢♢ |
| 02 | Sound Waves In Outer Space | 5:10 | ★★★ | ♢♢ |
| 03 | It Depends On | 3:29 | ★★★ | ♢♢ |
| 04 | Store And Save | 3:43 | ★★ | ♢♢ |
Stats
| | |
| --- | --- |
| Release | In Front Of The See Through Eye |
| Artist | Hardstroke |
| Year | 2009 |
| Label | Bypass |
| Genre | Electronic |
| Style | Electronica |
| Download | Link (MP3, OGG) |