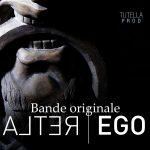 Xcyril is Cyril Humbert, a professional composer, who has published 11 of his albums, under a Creative Commons license to Jamendo. He specialises in soundtracks for films and video games. This soundtrack in particular has a dark atmosphere, most fitting to accompany a rainy autumn evening.
L'Attaque de l'école starts slow with a minute-long choral intro, but then moves into orchestral film score territory. One more minute of building tension through percussive elements, leading to a solid finale, which reminds me a bit of the old Warcraft 2 soundtrack.
La Fin de Monbourg is your typical orchestra plus drum kit track for a suspense moment in the film.
Le Mort de Chloé finally is a one minute one shot that brings everything to the table: dark start, electronic effects, subtle strings, drums and horns. Trailer material!
Download
Release page (jamendo.com)
Mirror page (archive.org)