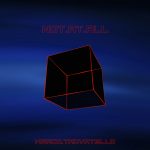 This release at Cologne-based netlabel Der kleine grüne Würfel comes from ESA's communication officer, who produces music for a hobby; what a nice surprise! 8 tracks of laid-back, slightly trippy instrumental post rock want to be discovered:
Mädchen aus Glas (girl made from glass) has a mellow first, and a slightly edgier second half. First flute, then guitar sounds.
Shuttleworth has 8 minutes worth of post rock, flavoured with subtle synth sounds, giving it a fake vintage appearance. Very downtempo.