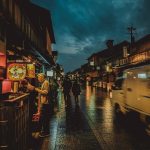 With only two tracks, this short EP by artist Fellirium makes it easy for me to select my habitual two tracks for you. Airy guitar tones with noticeable reverb calmly meditate over beautiful riffs with minimal synthetic background drones:
Bill A is the even calmer entry to a calm release.
24-7 has a gorgeous main motive and almost "active" – at least when compared to the first track.