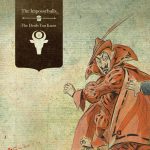 I don't do much hip hop, but when I do, I rather like it to be special. This is such a special case. Netlabel blocSonic keep up with their promise to deliver fresh sounding music. I like the classic vibe of the music, while the spoken words roll off nicely.
Back To It features very catchy (and musical) background loops, while the lyrics are like a self description of the album.
Hit Me With A Hit is almost sung for all the rhythm that goes into the spoken words.