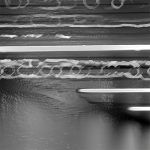 The term "defying genre boundaries" gets thrown around too often, I concur, but here it is on spot. Electronic click sounds, jazz fusion and funk lines are masterfully mixed in this release at German netlabel Broque. But please, don't believe me and listen for yourself:
Backwards is actually straight forward, compared to the more "eclectic" other tracks on this album.
Drawing Room plays out mainly on a vibraphone, accompanied by flute and beets. Strange yet uncannily familiar.
Trials And Errors (feat. Ale Pasquali) feels like a bonus track, with its Password Swordfish-esque dancyness.