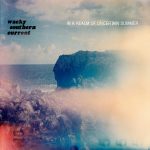 The inspiration taken from Air cannot be overheard, and is clearly stated in the album's release notes. So if you like the alternative sound of the French pop duo, give this album a try on a train ride.
Eaten by Your own Sun slowly screws its chords up, bringing you closer to our nearest star, while keeping your mood mellow. Beautifully melancholic.
The Nearest Star likes its slightly eerie chord progressions, while passing on pop terrain for instrumentation and song structure.