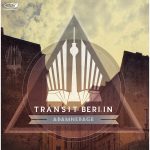 Here is another gem from netlabel Phonocake, produced by Berlin based artist Hanne Adam. She deals in clicky, futuristic instrumental tacks. The album has a very cinematic feel to it, while the songs are all quite musical (as in: not too experimental). I guess that the work is best consumed while walking the streets of Berlin, but it works quite well elsewhere, too.
Das Kamel in der Tasche (German the camel in the bag) grooves, dances and then has a large gulp of water.
Sektorengrenze is a meticulous clicky track, programmed with its beat in mind. Very formal, yet highly noddable.