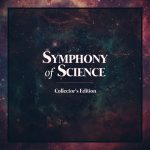 About 10 years ago, John D. Boswell produced the first of a now large collection of music videos that blend short quotes from scientists and science communicators with catchy electronica. Several million views later, we may now enjoy a grown collection of these gems, which are best enjoyed as videos. Once you are hooked, read on for my three favourite picks from the collector's edition of the audio-only release:
The Quantum World is an upbeat, lofty amalgamation of our current understanding of particle physics (or at least that part that has been properly popularised).
The Poetry of Reality is about the scientific method itself, and the joy of finding stuff out. A vibrant piano track nicely conveys that delight.
A Glorious Dawn gives me goosebumps mainly due to the high doses of Carl Sagan excerpts it manages to pull together. The music subtly frames those quotes, but does not overpower them.
Download
Release page (archive.org mirror)
Artist page
---
Still here? Good: if you happen to know Bob Ross' television show The Joy of Painting, please enjoy this remix by the same artist.