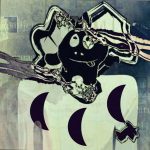 Phonocake again serve one of their delicious pieces. This release surfes between cheezy dancefloor and electronic ambient. I settled for "Easy Listening IDM" as a compromise. While the sound feels cold on first contact, the tracks are actually quite heart-warming on the inside. Give them a go!
Triple is the powerful, yet slow intro to this EP. 5 minute build up, and then holding you before the bass drop with psychadelic synth waves. Intense.
Summer is a 5 minute long bright, uplifting sound shower. Slightly Blade Runner on the edges.
Till We Meet Again made me forget my self-imposed limit of two tracks per review. While typing the last words of the introduction, the song suddenly swept me away with its finale. Great stuff, which works best when heared together.