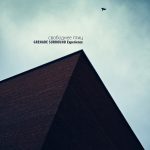 I cannot pronounce the album title, but the music is a great mixture of post rock and jazzy improvisation. Special feature: non-verbal improv singing! If you have one hour to fill with sophisticated, well-produced music, have this a go with your speakers.
Тема 1 introduces you casually to the album's theme, both sound- and tune-wise.
Тема 3 then shifts up one gear and uses hammond organ, faster pace and general awesomeness to convince you that you are witnessing a classic in the making.