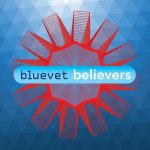 Netlabel Discos Confort specialises in House music styles, featuring multiple artists and DJs. This release by Mexican DJ Bluevet is one of the more silent pieces. I wouldn't call it ambient, but it does for some indie flavoured background music.
Here and Now has a flirring treble section, nicely contrasted with jazzy e-piano chords over loungy beets.
Arab on a Camel features slightly more unusual instrumentation, but it otherwise in style with the remaining release.