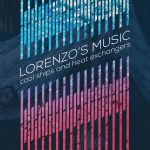 (Un)conventional alternative rock. With netlabel blocSonic, it's hard to not be impressed. I adore how they keep publishing consistently solid to exceptional albums and compilations year after year. The word conventional is meant as a compliment. Although it is not strictly correct: the use of brass instruments and synth sounds clearly is an exception to the rock band formula.
I Never Wanted to Say has a soft, flowing sound that waves up and down. Quietly dynamic, I would say.
Low uses the brass section to drive home the idea of a blues song played by a rock ensemble. They succeed.