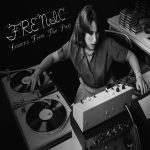 Melodic instrumental hip hop. Soft beats and beautifully aranged samples make this album a very special and very seductive entry into the instrumental hip hop genre. The tracks are not completely free of repetitive arrangements, but they have less repetetive arrangements than this sentence contains repetitive arrangements… 😉
New World is an exceptional piece. Mellow guitar tune, add soft percussion, background flute. Bravo!
Get Out of Dodge uses more sound samples, scratch effects and thus is more representative of the genre.