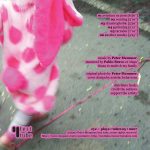 Meditative psychadelic rock. Ok, the release notes advertise this as Pop, "without a shadow of doubt". I tend to disagree, but what do words matter? For a change, I'll discuss three of the release's 7 tracks.

Aventura En Peru ventures on experimental territory, but is crafted with obvious attention to every single sound. By half-time, the minimal sound carpet slowly changes to a pretty rhythmic groove, and only clicking sounds remind you of the start…
Claustrophobic is not spectacular, but just right as a slightly monotonous background tune with occasional dips and bleeps.
Rarradar has a more ethnic/folklore taste to it. With over 7 minutes in length, it consists of three different parts.
Download
Release page (archive.org mirror)
Play on freemusi.cc