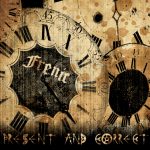 A lesson in Funk remixes. This classic release by from Bulgarian netlabel Dusted Wax Kingdom showcases UK artist Frenic. His trademark is blending together vintage voice samples and funk music, served with some big beats.
Time Present Now is the spoken word intro to the temporal theme of this album
Money Ain't No Women mixes several funk samples to a groovy sauce. It makes remixing sound simple.