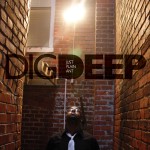 Fresh hip hop. I don't listen to a lot of rap music. In fact, this is the first review to populate the tags hip hop and rap here. This album has it all: opulent instrumental tracks, multiple vocalists, detailed music backdrops. It shows what hip hop can be like: fresh, so fresh…
Anti-Love would be my pick for a hit single on this album. Yet the race is close.
Hush is the 7 minute long intro track that I completely missed during the first listening. Now it's contending for my favourite..
Download
Release page (archive.org mirror)
Play on freemusi.cc