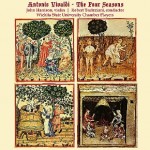 Take some excellent musician, create a flawless recording of a classical evergreen composition and release the result under a Creative Commons license (BY-SA). Instant win – for all us listeners! The natural sounding mix has a nice, dry room acoustics, a cough once in a while in the background and the earned applause in the end. Live music at its best!
The two selected tracks showcase both the quality of the recording and the musicians.
L'estate – 3. Presto (Tempo impetuoso d'estate) is the dramatic peak of the concert and my favourite part.
L'autunno – 3. Allegro (La caccia) is my favourite part in terms of rhythmn and punctuation.