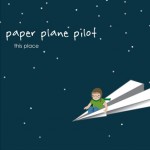 Cute. Pop. Music. That's this EP in a nutshell. Sweet like early child memories, with a faint glimpse of melancholy. The netlabel Corporate Identity serves this yummy musical candy. What a pity that it only has two tracks. Like usually, I strongly suggest to listen to the samples below and to download the release.
This release is itself a teaser for the full length album First Flight which they offer for free (ok, your email address) in 128 kbps MP3 — incredible. So better get the full album instead of bothering with this small bit.
The Only Thing is a cheezy, romantic song, dripping from infantile citations beginning with the plastic synth pads to the soft vocals.
This Place… I just cite the chrous: "In an empty room//an empty space//your face can light up this place."