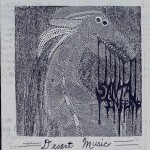 This is the first review I write in which my opinion about the music is ambiguous. Santa Inferno has released this very intense rock album, yet in a – probably artistically justified – horrible sound quality. While I find this style fitting for their more aggressive tracks it spoils my listening experience. Let me show you what I mean by two representative tracks.
Briska na Lang: a "Let me hear those drums, motherfucker!" is followed by a kick-ass percussion intro; what a great start! It even becomes better when a catchy guitar riff is introduced and makes me eager for hearing more. At about 0:45 vocals start and I suddenly realize how distorted the whole performance sounds. The voice sounds like shouted into a cheap voice recorder. Usually I would now just quit listening and look for another release. But despite its distortion, the music has enough to it to hook into my brain. But listen yourself:
I Wanna Be A Bird features a quiet guitar solo during the first minute. After that the noise takes over again until 4:14 when the initial motive is reintroduced, this time with percussion and and punch – yeah!
In short: I hate and love this album at the same time. I often listen to my favourite tracks when I want something that is not glossy, over-produced pop music.