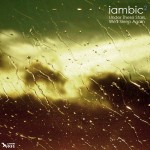 Laridae is a netlabel mainly focused on Ambient music. Iambic has released two beautifully quiet albums there so far. If you need punchy drums, please don't go further. Everyone else, find some decent relaxing music. The album is best served in one course, but like usual I highlight my two favourite tracks before handing you over the download link.
Regulus is a dreamy, 4:30 minute long piano & guitar masterpiece. No percussion throughout. Never more than some chords, a single string or key playing a simple motive.
Rain Drop is richer in instrumentation than Regulus by adding distant drums and violins. Static harmonies underline a mellow but restless piano motive. Halfway through, airy vocals set in. You either like it or find it horribly boring.